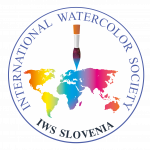 (Scroll down for Spanish and Slovenian version. / Desplazarse hacia abajo para versión en español y esloveno. / Za špansko in slovensko verzijo se pomaknite navzdol.)
II. INTERNATIONAL WATERCOLOUR FESTIVAL MINI CASTRA 2018
The festival is open for all artists in all watercolour techniques.
An artist can apply via email to lokarjeva.galerija@dlusp.si by sending maximum FOUR PHOTOS of the watercolour works in .jpg format. The size of the watercolour without passepartout should not be larger than 21 x 29.7 cm (8.3 x 11.7 in) or smaller than 14,8 x 21,0 cm (5.8 x 8.3 in), maximum 2 years old (from 2016). The quality of the photos cannot be smaller than 2 M pixels or larger than 3 M pixels. The photos should be sent by April 30th, 2018.
The professional committee will inform the selected artists by May 7th, 2018. All selected artists will then receive written instructions about how to send the watercolour works and how to pay the participation. The participation fees for Mini Castra 2018 are the following: for citizens of countries of the European Union 40 EUR, for citizens of other countries 45 EUR or 50 USD. For every selected author, the fee includes the exhibition at the gallery, the catalogue, and return of the watercolours.

By the end of May, the professional committee will choose five awarded watercolours and publish the winners on the Mini Castra 2018 official web site and Lokarjeva galerija Facebook fan page (https://www.facebook.com/lokarjevagalerija/).
1st prize    – 500 EUR
2nd prize   – 400 EUR
3rd prize    – 350 EUR
4th prize    – 300 EUR
5th prize    – 250 EUR
II. FESTIVAL INTERNACIONAL DE ACUARELA MINI CASTRA 2018
El festival está abierto para todos los artistas que trabajan en todas las técnicas de la acuarela.
El artista puede aplicar a través del correo electrónico a lokarjeva.galerija@dlusp.si enviando hasta CUATRO FOTOGRAFÍAS de sus obras en acuarela en el formato .jpg. El tamaño de la acuarela sin passepartout no debe ser mayor de 21 x 29.7 cm (8.3 x 11.7 in) o menor de 14,8 x 21,0 cm (5.8 x 8.3 in), hecha no más de hace 2 años (desde 2016). La calidad de las fotografías no debe ser menor de 2 M pixeles o mayor de 3 M pixeles. Las fotos deberán ser enviadas hasta el día 30 de abril de 2018.
El comité profesional informará a los artistas seleccionados para exponer en la galería Lokar hasta el día 7 de mayo de 2018, enviándoles instrucciones escritas acerca de cómo enviar sus obras en acuarela y cómo cubrir la cuota de participación. Las cuotas de participación para Mini Castra 2018 son las siguientes: para los ciudadanos de los países de la Unión Europea 40 EUR, para los ciudadanos de otros países 45 EUR o 50 USD. Para cada autor seleccionado, la cuota incluye la exhibición en la galería Lokar, el catálogo y retorno de las obras por correo postal.

Hasta los finales de mayo, el comité profesional seleccionará cinco acuarelas premiadas y publicará los nombres de los premiados en la página oficial del festival Mini Castra 2018 y en la página de Facebook de Lokarjeva galerija (https://www.facebook.com/lokarjevagalerija/).
1er premio    – 500 EUR
2do premio   – 400 EUR
3er premio    – 350 EUR
4to premio    – 300 EUR
5to premio    – 250 EUR
2. MEDNARODNI FESTIVAL AKVARELA MINI CASTRA 2018
Mednarodni festival Mini Castra 2018  je odprt za vse umetnike in v vseh tehnikah akvarela.
Vsak avtor se lahko na razstavo prijavi preko elektronske pošte na lokarjeva.galerija@dlusp.si z največ ŠTIRIMI FOTOGRAFIJAMI svojih akvarelov v formatu .jpg. Velikost akvarelnega papirja brez paspartuja ne sme biti večja od A4 (21 x 29.7 cm) ali manjša od A5 (14,8 x 21,0 cm), stara največ 2 leti (iz leta 2016). Kakovost fotografij ne sme biti manjša od 2 M pixels ali večja od 3 M pixels. Fotografije se morajo poslati najkasneje do 30. aprila 2018.
Žirija bo sprejete avtorje na razstavo obvestila do 7. maja 2018. Vsi sprejeti avtorji bodo takrat prejeli tudi pisna navodila, kako poslati svoje akvarele in plačati participacijo. Participacija za Mini Castro 2018 znaša za slovenske državljane znaša 30 EUR, za državljane članic Evropske unije 40 EUR, za vse ostale države 45 EUR oz. 50 USD. Za vsakega sprejetega avtorja slednja zajema razstavo del v Lokarjevi galeriji, katalog in vračilo akvarelov po pošti.
Do konca maja bo žirija izbrala pet zmagovalnih akvarelov in jih objavila na spletni strani Mini Castre 2018 ter Facebook strani Lokarjeve galerije (https://www.facebook.com/lokarjevagalerija/).
Prva nagrada    – 500 EUR
Druga nagrada  – 400 EUR
Tretja nagrada  – 350 EUR
Četrta nagrada  – 300 EUR
Peta nagrada    – 250 EUR